20 oktober 2009
Wild cards World Cup Stockholm, Budapest and Mechelen
After it was announced last week that Rainer Duen and Michael Brauchle received the wild cards for the World Cup Driving competitions in Hannover and Stuttgart, the wild cards for Stockholm, Budapest and Mechelen are now also made known.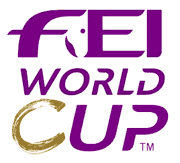 The wild card in Stockholm goes to home driver Fredrik Persson. Persson wil compete on 28 and 29 November against his compatriot Tomas Eriksson, Swiss drivers Werner Ulrich and Daniel Wurgler, Christoph Sandmann and Boyd Exell.
The OC of Budapest has allocated two wild cards to Jozsef Dobrovitz and Zoltan Lazar. They battle on 5 and 6 December against Ulrich and Wurgler, Czech driver Jiri Nesvacil, Boyd Exell and Koos de Ronde.
In Mechelen, the wild card goes to Gert Schrijvers, whose sponsor Willy Naessens also supports the World Cup competition in the Nekkerhal on 29 and 30 December. Schrijvers has to compete against the Dutch force Ijsbrand Chardon, Koos de Ronde and Theo Timmerman and Christoph Sandmann and Tomas Eriksson.

The FEI World Cup Driving starts on Saturday 24 October at 23.30 hrs. during the German Classics in Hannover. You can follow the competitions on www.clipmyhorse.de .