14 September 2018
Drebkau 2018: Martin Hölle takes the lead
Today was reserved for the second part of the dressage of the international driving competition for Pairs in Drebkau, Germany. Despite the cloudy weather it remained dry all day, which resulted in pleasant temperatures for the horses, competitors and the spectators. The Driving Centre in Raakow/Drebkau was visited by a large number of local school children this morning, who were invited to learn about the driving sport. Reigning World Champion Martin Hölle won the dressage, ahead of the best German driver in Drebkau Marco Freund. Host and reigning German Champion Sandro Koalick finished in sixth place, his father Torsten came 12th today.
Martin Hölle presented the 9-year-old KWPN-gelding Eppie and the 7-year-old KWPN gelding Gabber to the five international judges, who unanimously awarded his dressage test with the first place. Marco Freund has 9 points to make up to Hölle in tomorrow's marathon and is closely followed by Lars Schwitte and Sebastian Warneck. Overnight leader after the first dressage day Amely von Buchholtz from Argentina finished in fifth place.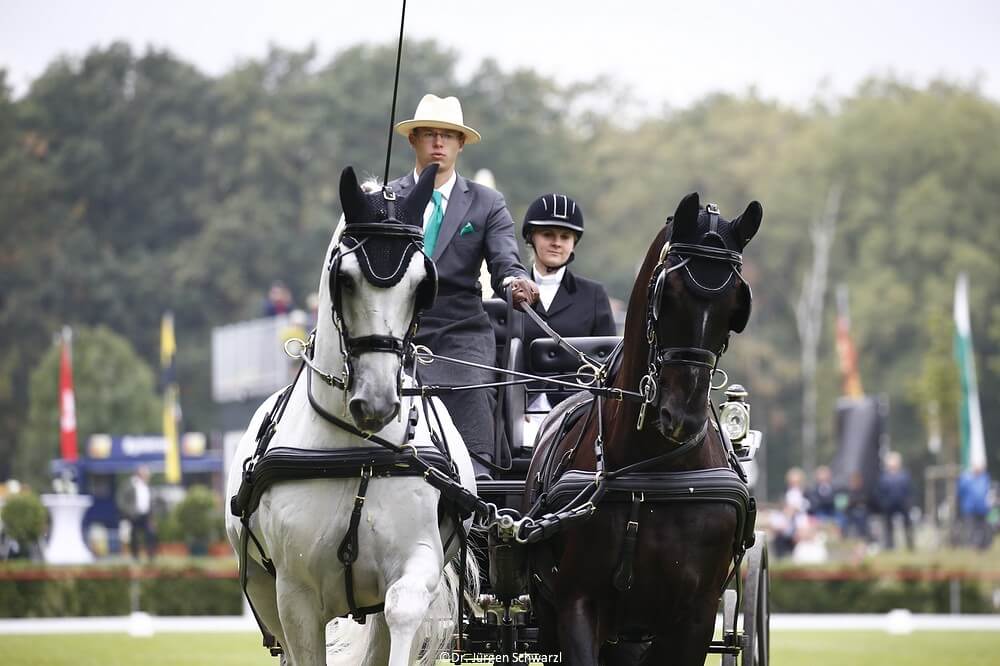 Martin Hölle
Photo:
Dr. Jürgen Schwarzl
The competitors are awaiting a nice marathon on Saturday with eight obstacles, designed by Hungarian level 4 World Championship Course Designer Gábor Fintha. The obstacles are situated close to each other on the compact main show grounds, which make it very easy and comfortable for the driving fans to follow the drivers.
Besides the marathon there is more to see in Drebkau for the spectators. On Saturday and Sunday there is a medieval spectacle with various shows, a market and food and drinks. For the children there is a bouncy castle and various Cowboy and Indian activities. Tomorrow evening is reserved for the first edition of the 'Lausitzer Oktoberfest' in the big party tent, where around 600 partygoer are expected to attend.