25 April 2019
DVI presents bid for European Championships Four-in-Hand 2021
Chairman of the Organising Committee Hugh Scott-Barrett and Secretary Cindy Timmer presented the bid for the organisation of the FEI Driving European Championships Four-in-Hand 2021 in Valkenswaard to the FEI in Lausanne, Switzerland, on 24th April.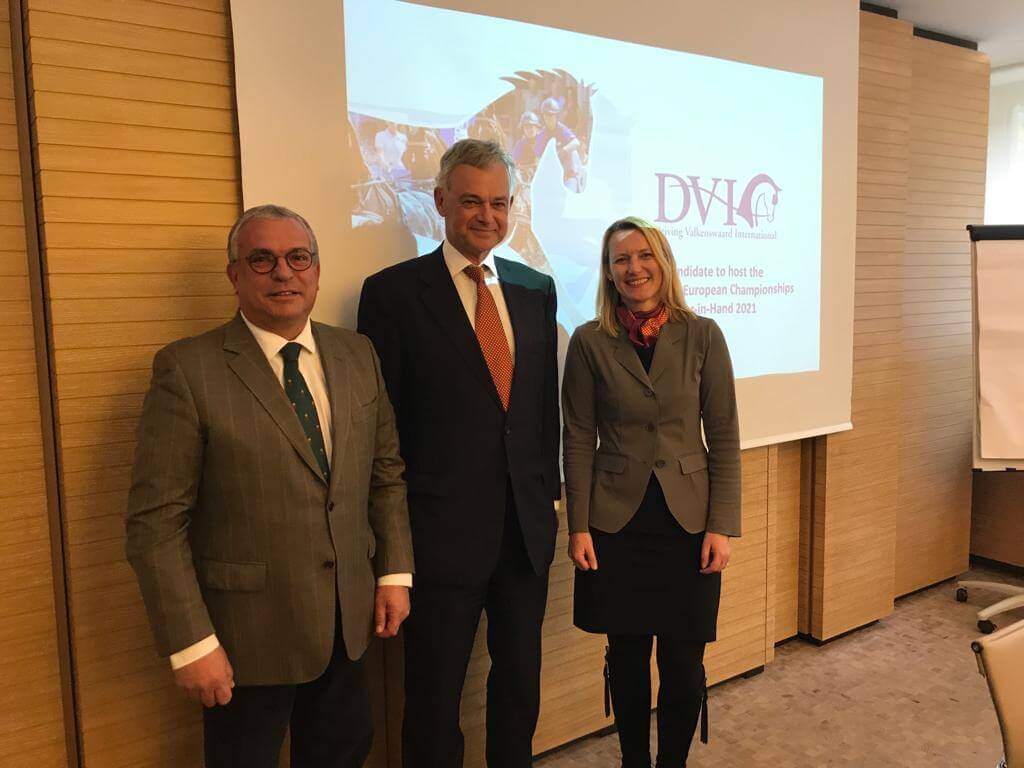 from left to right: Manuel Bandeira de Mello, Hugh Scott-Barrett, Cindy Timmer
Representatives of the FEI Legal, Digital & Broadcasting, Sponsorship & Event Management, Communication, Driving, Finance and Veterinary Departments attended the presentation, which was held in a friendly and harmonious atmosphere. The emphasis was put on DVI Plus: Driving Valkenswaard International is more than an international driving competition. Items on the programme like the Bike Challenge, the Tug of War and the Pro-Am Challenge involve the whole team around the driver. DVI is organised by and for drivers and has proven in the past three years to produce a Championship-worthy competition. The European Championships 2021 could be a very good addition and the candidacy is much supported by the Municipality of Valkenswaard, which supports DVI from its inaugural edition in 2016.
The preferred dates for the European Championships 2021 are 29th July to 1st August to provide a last qualification competition for the Horse Pairs, who will have their World Championships in Kronenberg the first week of September.
Budapest has also put in a bid to host the European Championships and the FEI will decide on 19th June 2019 who they will allocate the Championships to.