22 January 2023
Leipzig: Boyd Exell wins again
It was a sensational competition for the last World Cup points in Leipzig this afternoon. IJsbrand Chardon did a great job, but Boyd Exell was by far the fastest today.
Koos de Ronde, IJsbrand Chardon and Boyd Exell got through to the drive-off. After yesterday's debacle, IJsbrand was the first to start in the first round. Everything was right, he could turn on a dime and was lightning fast. With a clear round in 142.33, he immediately put pressure on all the other participants. Jérôme Voutaz was considerably faster, but got no less than 16 penalty seconds. He knocked off some balls and in the second marathon obstacle his team fell a bit through the turn, causing him to knock an obstacle element to the ground. Koos de Ronde was the next one to stay clear. His time driven was only a few tenths of a second slower than that of IJsbrand. Boyd Exell took it a step further. He also left all the balls up. The difficult sharp turn from obstacle 4F to gate 5 was – just like with IJsbrand – text book perfect. The Australian finished under 140 seconds.
Too many balls
Glenn Geerts is on the rise and of course his goal was to get a spot in the drive-off, to get as many points as possible. Unfortunately, he caught a ball early in the course and another one came later. In a last-ditch effort to sharpen his time, he cut briefly through the marathon obstacle to the finish line, but it wasn't enough. He eventually finished sixth.
Bram Chardon set the fastest time in the first round with 135.80, but he tapped a ball into the difficult gate 5, after which several more balls fell. With an unusual 12 penalty points, he failed to make it to the drive off and finished fifth.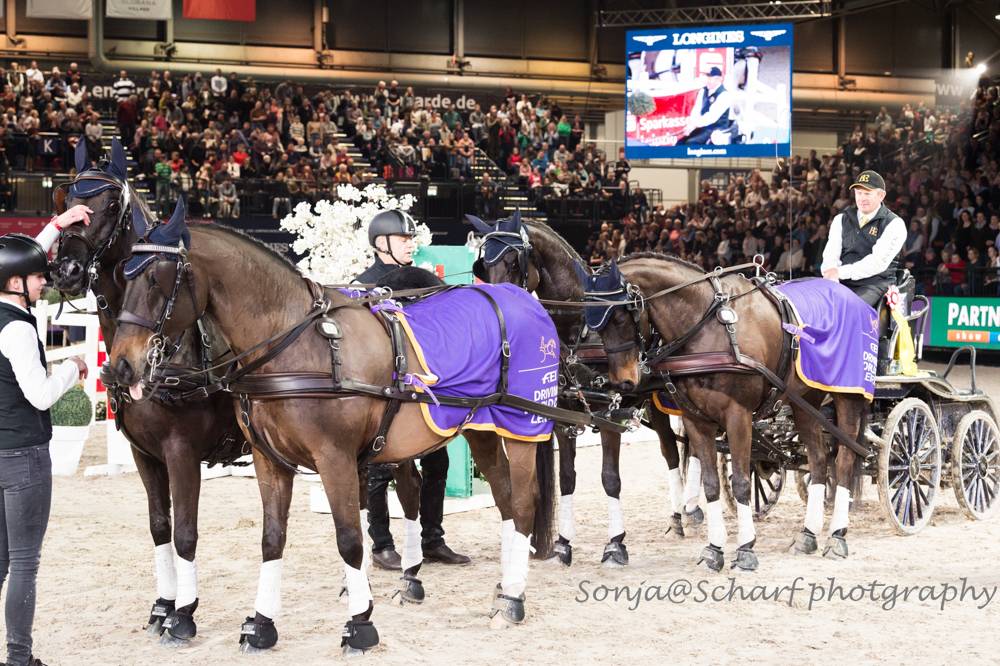 Photo:
Sonja Scharf
Even faster
Koos de Ronde performed well in the drive-off. He was fast and clear in 141.21. Then it was IJsbrand Chardon's turn. A ball fell on the first gate, but he had a lot of speed and was again able to drive tight and controlled through the obstacles. He drove faster than Koos and was a fraction (only 0.08!) ahead of his compatriot despite the ball that he had driven off. Boyd Exell performs best under pressure and that was the case again today. He flew through the course at high speed, made no mistakes and was ahead of everyone with 139.09.
Leipzig was the last World Cup competition before the World Cup final in Bordeaux (FRA). The six highest placed will start there. These are Boyd Exell, Bram Chardon, IJsbrand Chardon, Koos de Ronde, Jérôme Voutaz and Dries Degrieck. It promises to be a sensational final, where defending champion Bram Chardon can expect fierce competition.
Click here for the final standigs
Click here for the results in Leipzig
Copyright reserved. Acquisition without acknowledgment and permission from [email protected] is not allowed.