16 July 2022
Oirschot 2022: Small differences in the singles
Today the marathon in Oirschot was held under perfect weather conditions. Sun with 23 degrees that was interspersed with a cool breeze. The marathon, designed by Johan Jacobs, was tough.
Jur Baijens drove in the 2* singles today. He was fastest in six of the seven obstacles with Orchid's Iwan and in obstacle four he was 0.07 seconds slower than Klaas van de Sande, who set the fastest time there. Due to the fast times and his dressage score of 56.26 penalty points, Jur is now at the top. He has created a distance of more than 9.50 penalty points to Océane Naniot (BEL), the number two. His starting position for the cones is good.
The differences are smaller within the 2* pairs. After Anouk de Haas took the lead after dressage, she incurred 20 penalties in obstacle seven. Her ponies shot through the back of the E gate, instead of going around it first. "I'm really disappointed", says Anouk. Because of that mistake, she is now in fourth place. Tim Schäferhoff (GER) is currently number one. Jorn van Olst is, despite a ball in obstacle one, still in second place.
Small differences
Henk Radstake already indicated yesterday that he would not fully open the throttle in the marathon, so that his inexperienced pony can gain a good experience. Cédric Scherrer (SUI) had to be placed in the overall classification, who was fastest in obstacles one, two, three and six. Yet the differences are small. Marije Willemsen is now second with 136.45 penalty points and the numbers three through seven are less than a ball away. Those are; Karina Blaabjerg (DEN), Lise Halkjaer (DEN), Henk Radstake, Brent Janssen and Els Broekman.
No risks
Melanie van de Bunt is now in the lead in the 3* pairs. She takes over from Rodinde Rutjens, who drove the marathon with her fairly inexperienced dressage pony. "The ponies did a great job today", says Melanie. "You can tell we're missing some rhythm, but I didn't want to take too many risks today. In some places the ground was broken so there I drove quietly and took longer lines." In obstacle eight there was a hitch at A and because of the loosened ground she missed some opportunities there.
"I didn't drive to win today, but when you go into the lead after the marathon, that's super fun! I didn't expect to do so well." In the cones, she will harness Storm (called: Sandro). "He is 6 years old and is with us for the first time this week. He did well in dressage, but of course it takes a while before you are a team. He may be more tense tomorrow than he was in dressage. We'll see!"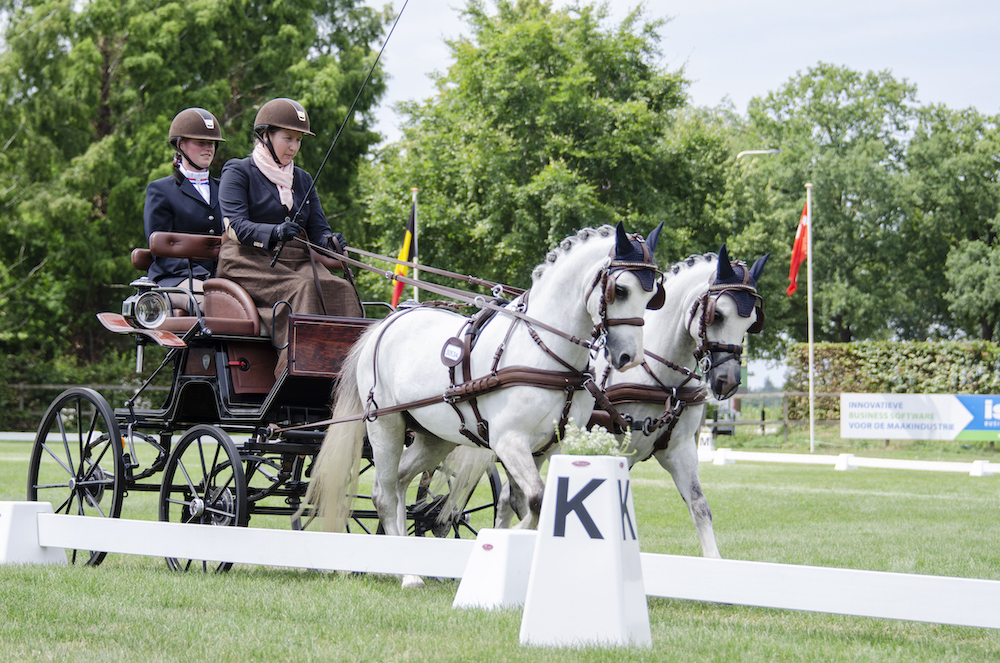 Melanie van de Bunt
Photo:
Crista Castelijns
Unbeatable
Marijke Hammink seems unbeatable this weekend. She won the dressage yesterday and repeated it today in the marathon. With a minimal difference (0.03 penalty points) Yannick Scherrer (SUI) finished in second place today. He climbed from fourth to second place in the standings. Jan de Boer is still in third place.
Click here for the photo album
Copyright reserved. Acquisition without acknowledgment and permission from [email protected] is not allowed.