5 December 2020
Horse in focus: Diesel
The horses and ponies that we drive are the stars of the driving sport. The the report 'Horse in focus' we will be telling the story of a horse or pony who deserves a moment in the spotlight.

The tobiano gelding Diesel from Rudolf Pestman and Esther Klok is a striking animal. Diesel was born in 2003 but his breeding and pedigree is unknown. Diesel was purchased by Rudolf as a two and a half year old and now competes as a single at the highest level of international competition. The combination has competed in no less than five World Championships and his list of accomplishments is incredibly impressive. The most recent success: team gold at the World Championships in Pau, where Rudolf and Diesel won the cones with a brilliant drive.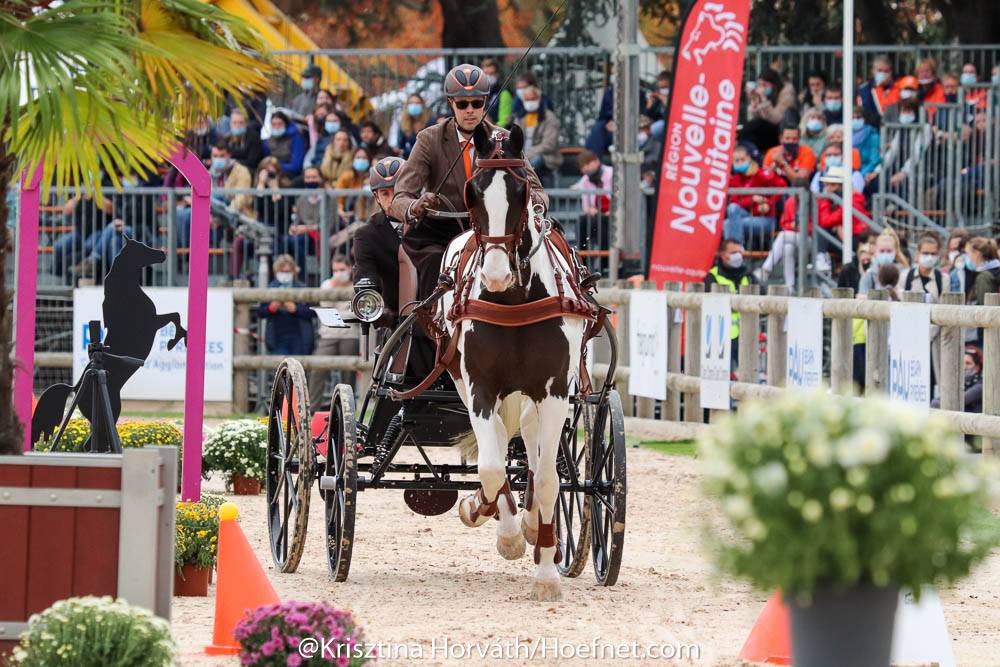 Rudolf and Diesel in their winning cones drive at the World Championships in Pau
Photo:
Krisztina Horváth
A lamb with a stubborn streak
Diesel has many good qualities, but as Rudolf says 'You either love him or you don't'. He is a horse that always travels uphill with a hind end that never stops. In the stable he is as gentle as a lamb, you could let a child lead him around. But Diesel has a stubborn side also – and then it is better to handle him with kid gloves. He's not an affectionate horse and even though he is seventeen years old he still whinnies like a foal when it is feeding time.
The beginning
Rudolf and Esther began driving with a Haflinger but were starting to look around for a warmblood. While browsing an online classified website they saw an advertisement and decided to go and take a look. It only took him trotting three steps before they were sold. He was a super moving, well tempered, small eyed, ugly headed horse with the colouring of a cow.
'When we drove away the gentleman selling him told me that there were other parties interested', tells Rudolf. At the end of the street we ended up turning around and we bought him right then and there. We didn't even bother doing a veterinary inspection which was not appreciated by Esthers colleagues at the vet clinic in Winsum. After getting a sermon from them we ended up taking him to be checked and luckily everything was ok.
Diesel as a two and a half year-old
Photo:
Private collection
First drive
Diesel came to Rudolf and Esther as a 'puppy-horse', but soon learned from the Haflingers how to eat and relax in the fields instead of only standing and taking in his surroundings. He was backed under saddle in a playful manner and when he was four and a half he was broke to drive. His first drive wasn't a success.
'Diesel was away to be backed for the carriage, when we brought him home and put him in the carriage for the first time he didn't want to go forward. We managed to get him to the forest and into a trot, but he found everything scary and we ended up driving into a dry ditch. Luckily he waited patiently and we were able to keep driving. He was so well behaved during the entire situation that it gave us a lot of trust in him, but that is naturally not how you want to start out.'
The road to success
Rudolf and Esther took their time with Diesels education. In the beginning they took him to competitions to get used to the atmosphere and to learn, and then later to compete. It was initially not always easy. 'It was difficult to keep his focus when he was younger. He was distracted easily and had trouble staying focused', tells Rudolf.
But Diesel went on to win a lot of prizes. In one season he was the national combined driving champion in the Netherlands as well as in the Dressage and Cones division at the Hippiade. In 2010 he won every competition that he entered. The secret? 'You have to go through everything together', says Rudolf. 'What we learned then we take with us on to the next challenge.'
In 2012 they had their international debut in Dillenberg which became an unforgettable competition for the pair. After the marathon they stood in fourth place, and after driving a brilliant cones they won the entire class! Rudolf: 'I couldn't believe it. We were standing at the warm-up area and people came up to us and said 'you won'. This unexpected success played a large role in them being selected to compete at the World Championships that year in hot hot hot Portugal.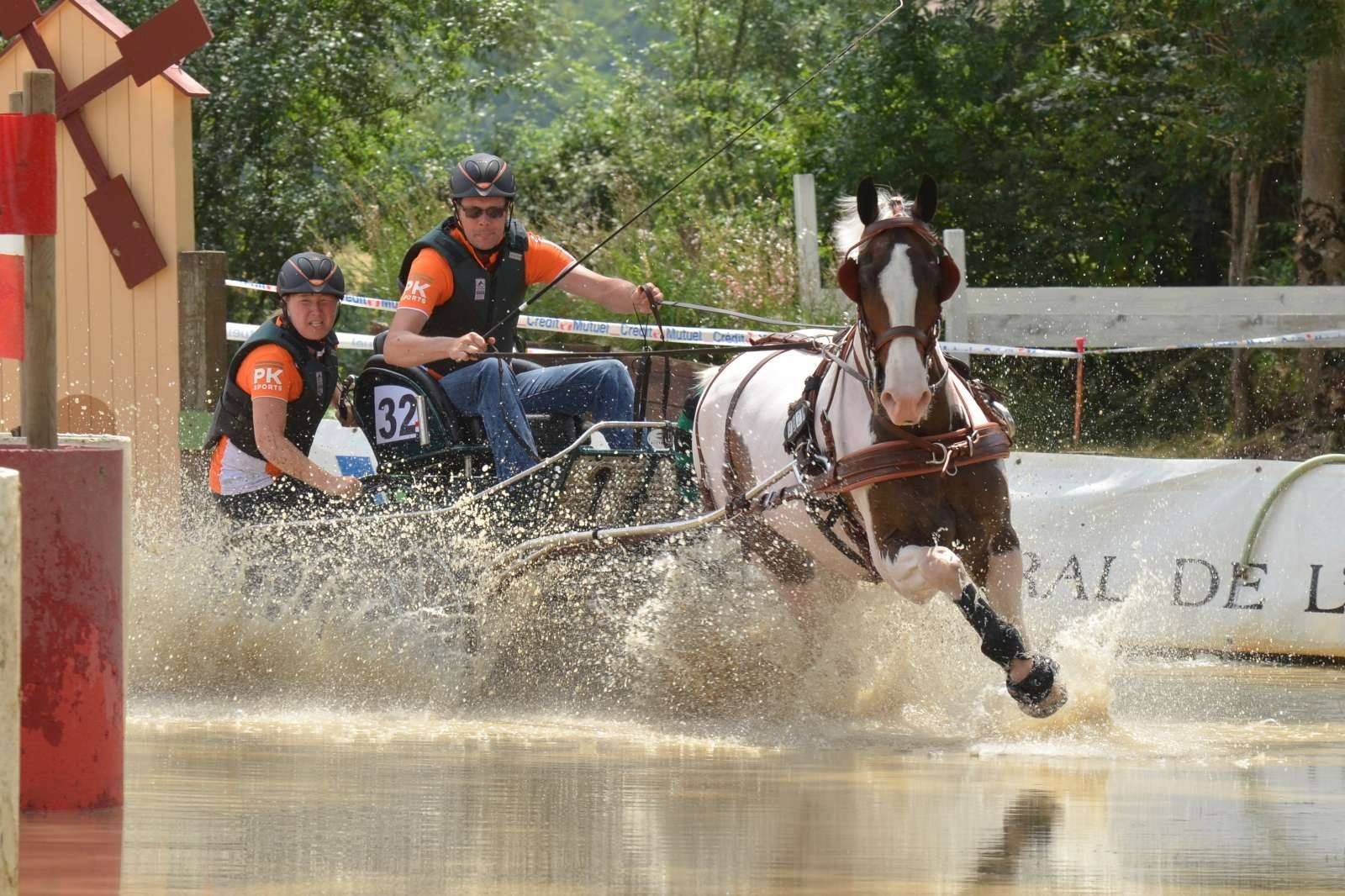 Diesel is a true all-rounder strong in the Dressage, Marathon and Cones (seen here in Chablis)
Photo:
Private collection
Pleasure
'We have become a team together', says Rudolf about Diesel. 'We kind of have the same temperament. We are both easy going, but can also be very determined, (even though I may have to pump Diesel up sometimes). There are definitely pro's to the face that he is so quiet, but you run the risk that your training at home becomes too easy. His dressage is always good, but over the years he has also become much faster. He loves to work and really enjoys the marathon as well. Diesel's true strength is that he is good in all three phases of competition. And enjoying what you do is also important for Rudolf and Esther: 'We are also going to competitions to have fun. If you can't enjoy what you are doing, you also can not perform.'
The most special moments? There is definitely more than one. Diesel has been a fixture on the international stage now for eight years. And there have been ups and downs. In 2018 Diesel suffered an injury, but was luckily recovered in time for the World Championships in Kronenberg. 'In the dressage test there I had the feeling that he was flying on the last extension on the centre line. At that moment there may have been some tears of happiness,' says Rudolf
Winning the cones in Pau was also amazing. The one-ness, but also the sharpness and focus of the combination was unique. 'If we didn't have Diesel, we would never be standing where we are now. In 2010 we were approached to sell him and thank goodness we decided not to.'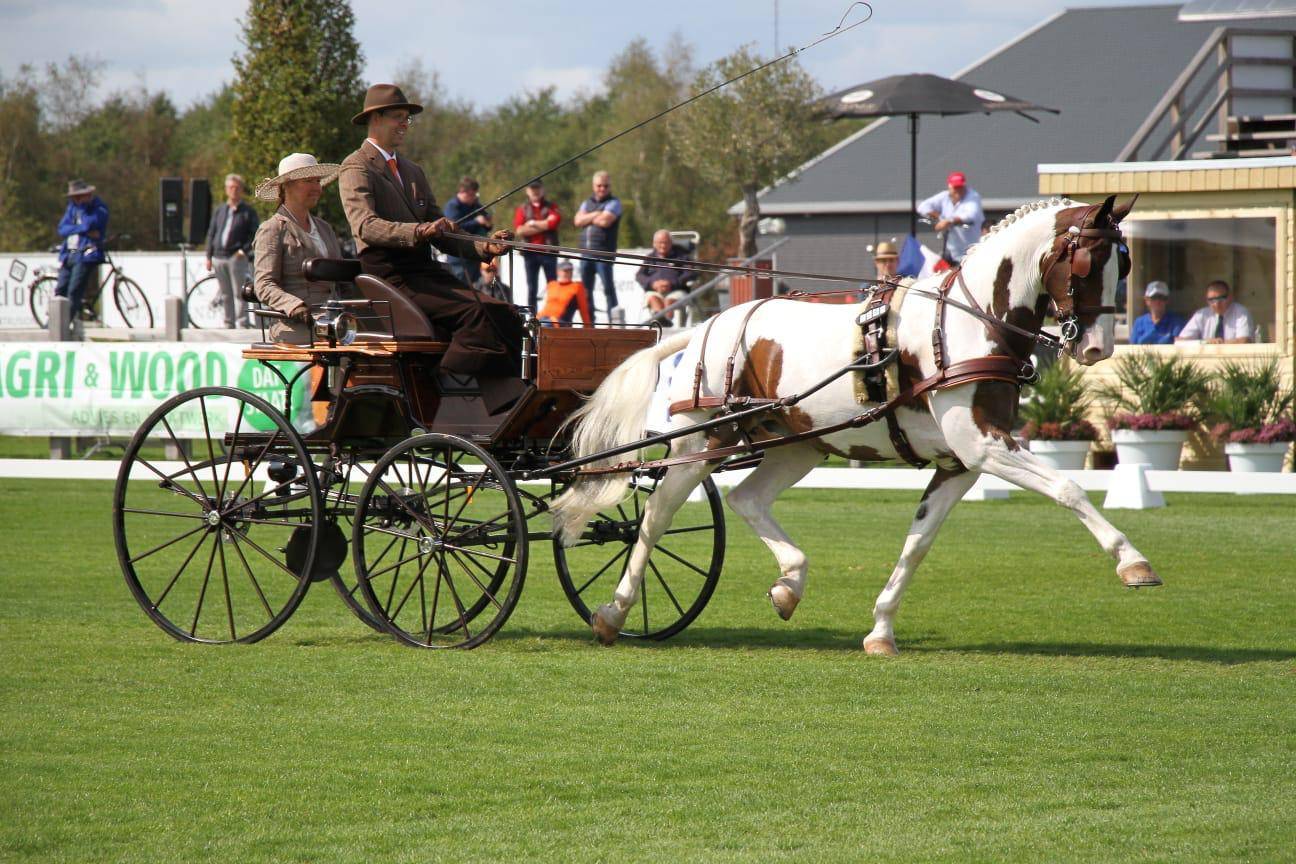 Diesel in the dressage during the 2018 World Championships
Photo:
Brigitte Gfeller
The future
Diesel is now seventeen years old and in peak condition. Rudolf and Esther take good care of him and his management is excellent. 'We want to enjoy him as long as we can. We are still improving and he remains healthy so there are dreams of the World Championships in 2022.' What does Diesel mean for his owners? 'He really is a 'once in a lifetime horse", tells Rudolf over his pride and joy. 'It is unbelievable how he performs again and again. What we have been able to do and experience with him is unique and for that we are very thankful.'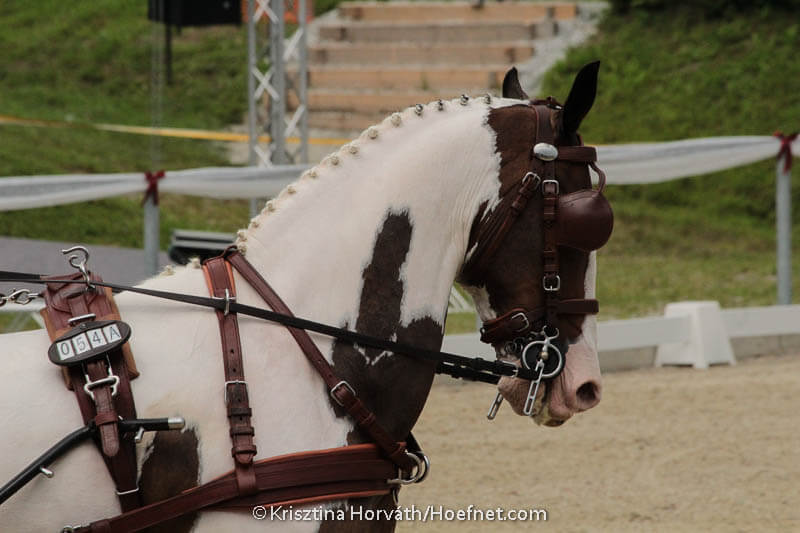 Photo:
Krisztina Horváth
List of Achievements
Diesel has won multitudes of prizes. The most important:
2009
Dutch Champion combined driving klasse 3
Hippiade Champion M dressage
2010
Dutch Champion combined driving klasse 3
Hippiade Champion Z dressage
Hippiade Champion L cones
2011
Dutch Champion combined driving klasse 3
2012
Winner CAI3* Dillenburg
2015
2nd CAI3* Chablis
3rd in the FEI rankings
2016
2nd  CAI3* Dillenburg
Silver Dutch Championships Single Horse
2017
Winner CAI3* Chablis
Silver Dutch Championships Single Horse
2019
Bronze Dutch Championships Single Horse
2nd CAIO4* Pau (bronze eith team)
2nd in the FEI rankings
2020
2nd CAI3* Chablis
World Championships Pau: Team gold, Winner Cones, 5th individual overall
4th in de FEI rankings
Copyright reserved. Acquisition without acknowledgment and permission from [email protected] is not allowed.