21 October 2020
Pau 2020: Kelly Houtappels is the overnight leader
The first dressage day of the FEI Driving World Chmpionship for Singles took place under a lovely autumn sun. Thirty six competitors entered the main arena and Canada's leading lady driver Kelly Houtappels-Bruder drove the best test of the day, taking the lead in the provisional standings.
Netherlands-based Kelly had to start early in the morning and her Oldenburger gelding Flip danced through the arena. With fluent transitions and a precisely driven test, Kelly and Flip peaked at the right moment. The Ground Jury awarded their performance with a score of 45,89: "I am very happy," said Kelly. "There were a few minor mistakes, but everything came together and we drove our best test ever."
Dutch team driver Rudolf Pestman finished in second place with his piebald gelding Diesel. Franz Schiltz from Luxemburg drove his San Remo Royal to the third place.
The remaining 13 competitors will drive their dressage test on Thursday morning.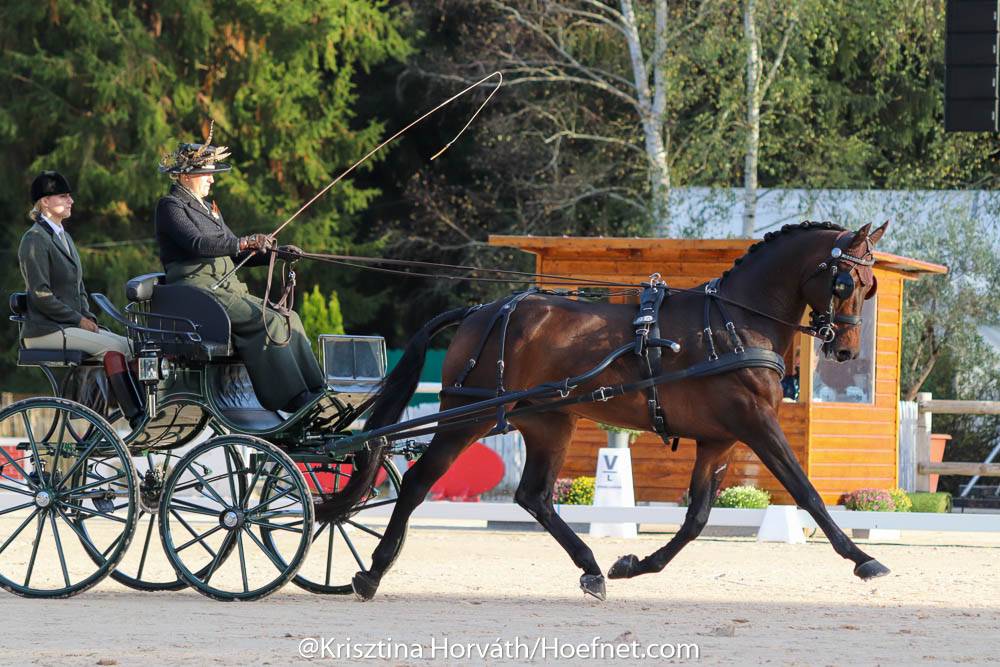 Kelly Houtappels drove the test of her life
Photo:
Krisztina Horváth
Copyright reserved. Acquisition without acknowledgment and permission from [email protected] is not allowed.