12 November 2022
Stuttgart: Boyd Exell unbeatable
This weekend in Stuttgart it is the 3rd World Cup competition of this season and again Boyd Exell was the master. He won convincingly and referred Jérôme Voutaz and Glenn Geerts to places 2 and 3 in the winning round.
In the first round, Jérôme Voutaz clocked under 150 seconds and had a high base speed. Glenn Geerts lacked speed in the first round when driving the marathon obstacles, was much faster than yesterday and had 1 ball just like Voutaz. Boyd Exell immediately showed that he was not going to leave anything to chance. He was 4 seconds faster than the Swiss and remained clear.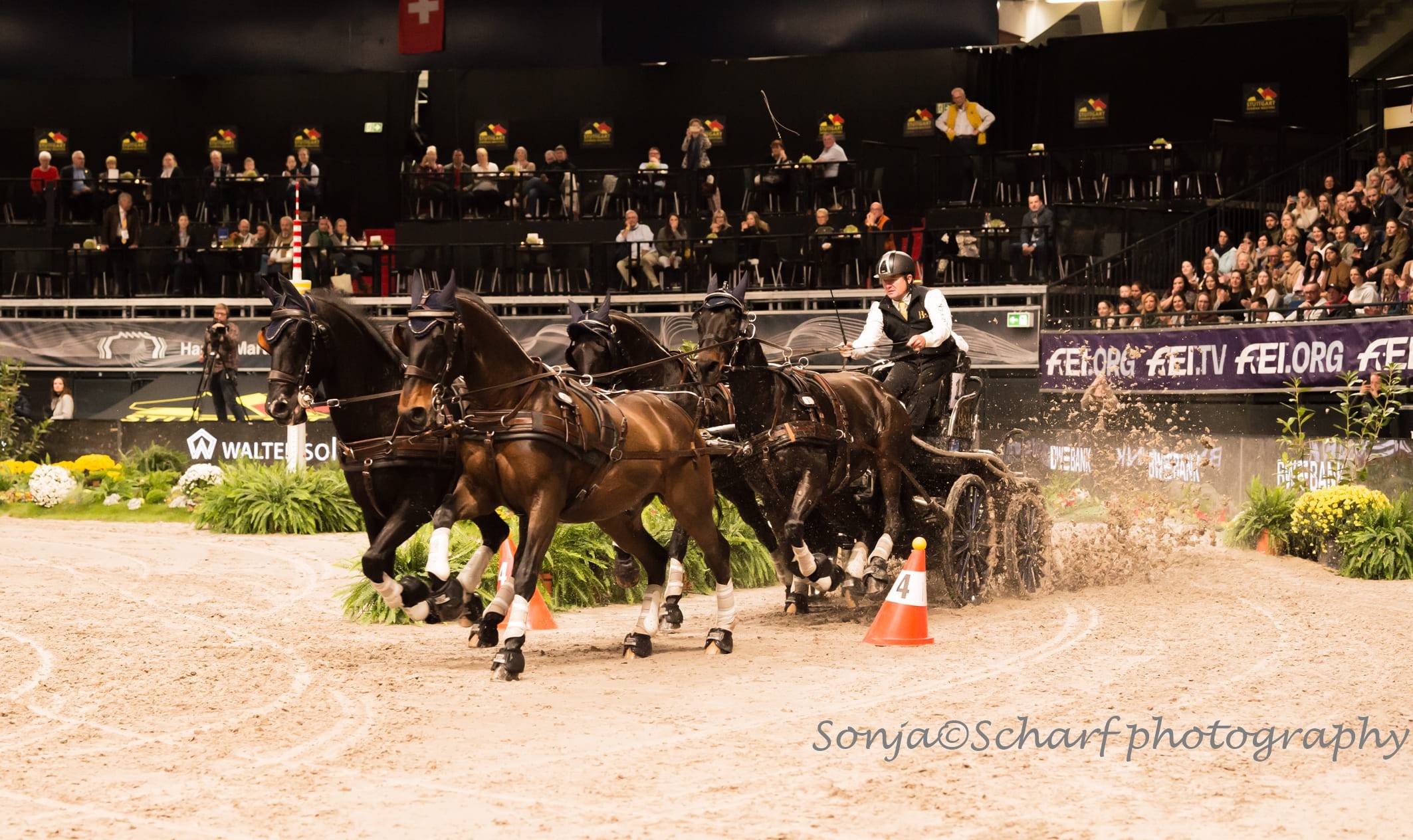 Photo:
Sonja Scharf
Boyd remains a league of his own
These three competed against each other in the winning round, in which they started with a clean slate. Glenn Geerts was much faster than in the first round, but drove 3 balls off. Jérôme Voutaz immediately started quickly, but swerved out after the first time out of the water, causing gate 4 to suffer. He then drove out very wide in the first marathon hurdle. Partly because of this, he was not as fast as in the first round. When he then drove a ball at the last gate, it was exciting whether he could keep Glenn Geerts behind him and he narrowly succeeded. Boyd Exell then did low flying. He took two seconds off the time he set in the first round. He could easily afford a dropped ball in obstacle 5. With a grand total of 147.77 he was again by far the best today and took the full box of World Cup points.
"What a great crowd and a great competition here in Stuttgart", Boyd reacts afterwards. "My new horse (front right Maestoso Jupiter, next to the very experienced Bajnok, ed.) is going to do better and better. My A-team is still at home, but the B-team seems very good."
Stuttgart World Cup results
Boyd Exell (AUS) 147,77
Jérôme Voutaz (SUI) 161,76
Glenn Geerts (BEL) 163,08
Michael Brauchle (GER) 160,64
Chester Weber (USA) 163,69
Benjamin Aillaud (FRA) 177,00
Click here for the photo album
Click here for the standings in the World Cup after 3 competitions
Copyright reserved. Acquisition without acknowledgment and permission from [email protected] is not allowed.