19 November 2016
Stuttgart: Chardon beats Exell in Stuttgart
After an exciting battle in the nearly sold out Schleyer Halle in Stuttgart, reigning World Cup Champion IJsbrand Chardon (NED) beat his rival Boyd Exell (AUS) in the first FEI World Cup™ Driving competition of this season in Stuttgart, Germany. Wild card driver Georg von Stein (GER) finished on the third place.
Chardon set the time to beat in the second round, in which the top three drivers started from scratch. Last starter Boyd Exell knocked two cones down and was unable to beat Chardon's time, which resulted in Chardon winning Stuttgart for the first time again since 2007. Chardon used a new horse in the left lead of his team, the 10-year-old piebald gelding Casper: "I have had this horse for two years and I normally use him in my riding school. He is an experienced driving horse as well and I started to use him in a few small indoor competitions and he did very well, so I decided to use him in Stuttgart. My next World Cup competition is in Mechelen (BEL) and I will most certainly use him there as well."
Boyd Exell used a new left leader horse in his team as well. The 18-year-old gelding Costa contributed to Boyd's very fast team of horses. Being the last man in, Boyd was too concentrated in the first marathon obstacle, which resulted in an extra circle. Whilst trying to make up for this mistake, the four-times World Champion went even faster, but knocked two balls down and finished on the second place: "I wanted to stay tight to the elements and I forgot to think ahead, this was a driver mistake! I did cut every edge though and I am very pleased with my horses, they form a very good team."
Georg von Stein thanked the organiser for his wild card, which allowed him to test his horses: "I made changes to my wheelers, I took one out and changed position of the other. This resulted in more speed. The spectators were amazing, the atmosphere was great. It is a shame that I knocked some flowers over in the second round, but I am very pleased with my results."
Theo Timmerman (NED) used two new leader horses and his team bent very well and was very fast. Unfortunately the golden team member from Breda had three knockdowns, which dropped him to the fourth place. The four-in-hand of Rainer Duen (GER) lacked the proper settings and Duen could not get into the right rhythm. The 2016 silver medallist at the German Championships finished on the fifth place, ahead of Jérôme Voutaz (SUI) whose round did not go as well as he had hoped for. Voutaz was pleased however to be able to compete in Stuttgart after his accident in Donaueschingen (GER) where he got injured. Jérôme had to walk the course on crutches, but his injury did not affect him in the driver's seat.
It was the second time in the history of the FEI World Cup™ Driving that the drivers start from scratch in the second round instead of the two rounds being counted together. Chardon's tactics were to drive clear and not too fast in order to secure his starting place for the second round, which he did. Chardon is the opinion that two rounds together results in even more exciting sport for the spectators.
The 2016/2017 FEI World Cup™ Driving series now moves on to Stockholm (SWE) on Sunday, 27 November. Boyd Exell and Rainer Duen will drive their second competition in Sweden's capital city. József Dobrovitz (HUN), József Dobrovitz jr. (HUN) and Edouard Simonet (BEL) will kick off their season there. Fredrik Persson (SWE) will compete with a wild card.
Results FEI World Cup™ Driving competition Stuttgart 19 November 2016:
Ijsbrand Chardon (NED) 97,61
Boyd Exell (AUS) 101,41
Georg von Stein (GER) 110,45
Theo Timmerman (NED) 136,84
Rainer Duen (GER) 144,19
Jérôme Voutaz (SUI) 150,11
Click here for the full results
FEI World Cup™ Driving, standings after 1 of 8 events:
1        IJsbrand CHARDON                    NED         10
2        Boyd EXELL                            AUS          7
3        Theo TIMMERMAN                     NED         5
4        Rainer DUEN                          GER          3
5        Jérôme VOUTAZ                       SUI          2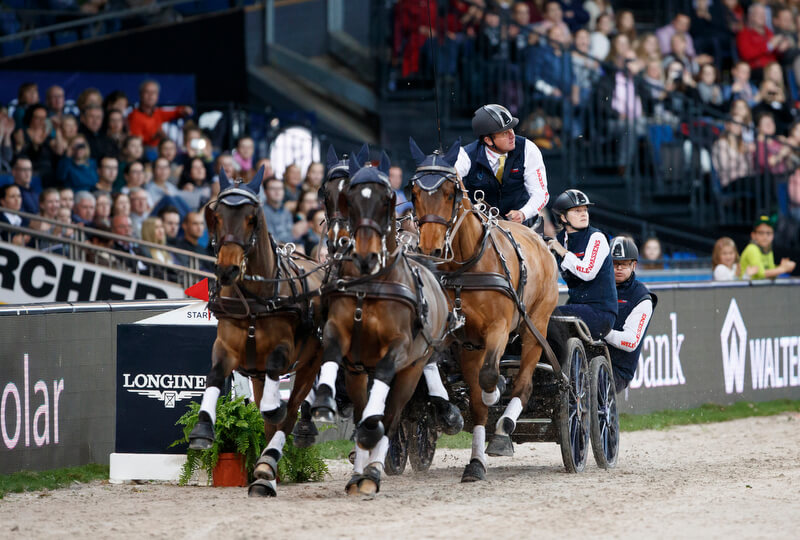 Boyd Exell
Photo:
Stefan Lafrentz