6 March 2017
FEI courses in Schlosshof a success
The third course for FEI officials was held at the beautiful Austrian Schlosshof this past weekend.
The beautiful Schloss Hof estate was the setting for the FEI driving courses
Photo:
Hippo Revue
Course leaders Mark Wentein (BEL) for the judges, Richard Nicoll (USA) for the Technical Delegates and Wolfgang Asendorf (GER) for the course designers provided the 35 FEI officials with the necessary information for retraining and/or promotion.
Simultaneous with the FEI courses, the 'Horses in Sport – 2017' driving congress was organized at the same location.
The Schloss Hof, like Schönbrunn in Wenen is a part of the Habsburgse royal Donau monarchy and was a truly unique location for this meeting. Combinations from state studs in Piber, Mezöhegyes and Kladruby were present. A number of driving clinics were given including sessions with Theo Timmerman and Boyd Exell.
A Thank you for Mark Wentein
On Saturday evening FEI Driving Committee chairman Karoly Fugli spoke to thank Mark Wentein for his contributions as member of the FEI Driving Committee (2012-2016) and presented him with a golden plaque on behalf of the FEI. Director of the FEI Driving Department Manuel Bandeiro de Mello sat along with Fugli and the clinicians on a panel who then discussed current topics of the sport.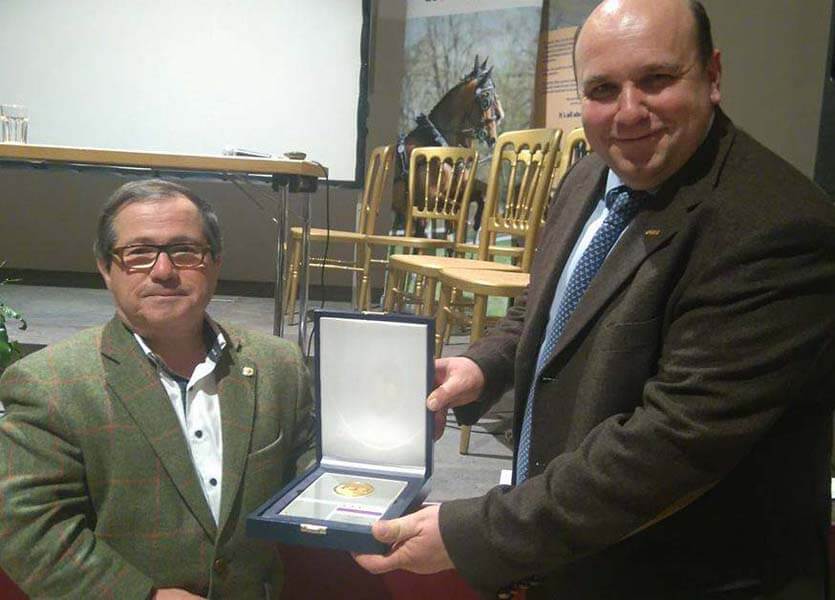 Karoly Fugli presents Mark Wentein with a plaque to commemorate his time with FEI driving commission from 2012 - 2016
Photo:
Sonja Bauer
Tekst: Mark Wentein